1. MAGNETIC RELAXATION-MEDIATED DETECTION AND ISOLATION OF SINGLE CERCULATING CANCER CELLS IN COMPLEX MEDIA.
Published in JACS 2009, 131, 12780. Magnetic relaxation technique (using magnetic relaxometer from Bruker, bench-top MRI, 0.47 T) was used to detect single cancer cell from blood circulation, using surface engineered magnetic nanomaterials. Similar techniques were used to trace amount of bacteria and other pathogens in milk. Herein, we study the effect of multivalency on the detection profile of cancer cells and bacteria in complex media, like blood and milk. In these studies, we conjugated folic acid at two different densities (low-folate and high-folate) on polyacrylic-acid-coated iron oxide nanoparticles and studied the interaction of these nanosensors with cancer cells expressing the folate receptor, using confocal microscopy, dynamic light scattering and magnetic relaxation. Results showed that the multivalent high-folate magnetic relaxation nanosensor performed better than its low folate counterpart, achieving single cancer cell detection in blood samples. However, the novel diagnostic typically involves the targeting ligand conjugation to create a sensitive and specific nanosensor that can bind and detect the presence of a target, such as bacterium, cancer cell, protein or a DNA sequence. We anticipate the broader use of our technology in the clinic and in the field, expediting diagnosis and decision-making in cancer.
Figure. Magnetic relaxation nanosensor-based detection, isolation and treatment of cancer.
2. MAGNETIC NANOSENSOR-MEDIATED DETECTION OF INFECTIOUS DISEASES.
Published in JACS 2011, 133, 3668, Bioconjugate Chemistry, 2011, 22, 307, PLoS One 2012, 7, e35326. Organic chemistry-based, surface engineered magnetic resonance nanosensors (MRnS) were used for the first time to detect cholera toxins, Anthrax Lethal Factors, pathogens for crohn's and jones diseases, MAP bacteria and other infectious diseases. These works highlighted all over the USA through the NIH and other websites and multiple media channels. Bacterial infections are still a major global healthcare problem. The quick and sensitive detection of pathogens responsible for these infections would facilitate correct diagnosis of the disease and expedite treatment. Of major importance are intracellular slow-growing pathogens that reside within peripheral leukocytes, evading recognition by the immune system and detection by traditional culture methods. Herein, we report the use of hybridizing magnetic nanosensors (hMRS) for the detection of an intracellular pathogen, Mycobacterium avium spp. paratuberculosis (MAP). The hMRS with unique genomic sequence, acting as proximity magnetic relaxation nanosensors, resulting in an increase in magnetic relaxation of surrounding water molecules upon hMRS binding to their target. Demonstrated that the change in magnetic relaxation is associated with the interaction of the nanoparticles with ligands. MRnS induce large increases in the relaxation signal upon binding to a target, whereas when the target promotes nanoparticle clustering the signal decreases. This technology was also used to target, isolate and treatment of Cholera toxin B-subunits, employing molecular mimicry, robust ganglioside-resembling iron oxide nanoparticles, via changes in spin-spin relaxation times (ΔΤ2) and achieved detection sensitivity in the low picomolar regime (40 pM).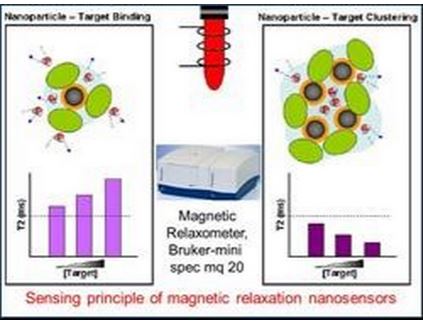 Figure. Hybridized magnetic nanosensors (hMRS, from the top) showed the effective detection and isolation of pathogens in blood within an hour, compare to the traditional culture-based nPCR (12 weeks) or direct nPCR (24 h). Images showing the principle of MRnS as nanosensors and the molecular mimicry for the detection of cholera toxins.